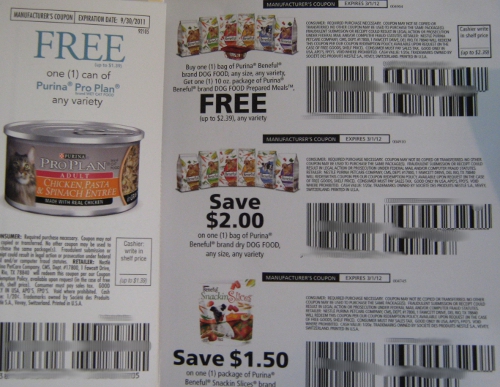 It's ironic that I'm writing an article about saving money on pet food, because I don't have any pets. So how would I know anything about feeding Fido on a budget? The interesting thing is, I've actually ended up purchasing a lot of cat and dog food over the years, either because it was free with coupons and I wanted to give it to my friends and family who have pets, or because I was actually making a profit on it through overage. That's right, not only have I gotten cat and dog food for free, I've made money off it! So how can you start saving on products for your furry friends? Here are my top 7 tips:
1. Use coupons.
This may seem obvious, but it's worth reiterating. I have gotten bags upon bags of catfood completely free thanks to coupons from the Sunday newspaper. Pet food manufacturers often run promotions where they offer coupons for totally free items. One example of this is a promotion that Friskies ran in 2008 for their "Party Mix" cat treats. They offered a coupon in the paper for a totally free bag, and since I had multiple copies of the newspaper inserts, I ended up getting many bags of these cat treats completely free. This scenario has played out many times for me, as cat food manufacturers in particular seem keen to offer free product coupons in the newspaper.
So how do you get your hands on multiple coupon inserts?
You can ask your friends to save them for you, trade coupons, or even try recycle bin diving!
You should also look for promotional offers on brand websites.
Brands are using social media like never before to reach their audience and gain new customers. One effective way in which they do this is to offer a coupon for a totally free product on their website or Facebook page. You may want to look up your favorite pet food brands online and add them to your social networks so that you can stay up-to-date on new offers. You should also check coupon blogs and keep your eyes peeled for pet offers – I have a category on this blog specifically for free coupon offers, and I post pet food deals whenever I find them. Two of the most recent offers include a "Try-Me-Free" rebate for Purina Pet Gear Training Pads, good through October 31st, 2011, and this offer for a coupon good for one free can of Purina Pro Plan cat food, which is still available. (I got mine in the mail the other day, and I'm giving it to my girlfriend who has cats!)
And don't overlook printable coupons.
Not too long after the Friskies Party Mix deal, there was a printable coupon offer good for $3.50 off any Purina Cat Chow. Because they were good on any size or variety of Purina cat food, I was allowed to use these on the lower priced bags, resulting in overage – so it actually helped pay for the other groceries in my transaction! Bear in mind, overage policies vary from store to store, so as with everything relating to coupons, you should do your homework and look up the store's coupon policy on their website or ask a manager before shopping to save yourself any confusion or hassle.
I ended up with a ton of free cat food thanks to sales like these. So what on earth did I do with all this cat chow if I don't have any kitties? I put all of the cat food into a large box and gave it to my friend who owns several cats. She was thrilled – and so were her cats!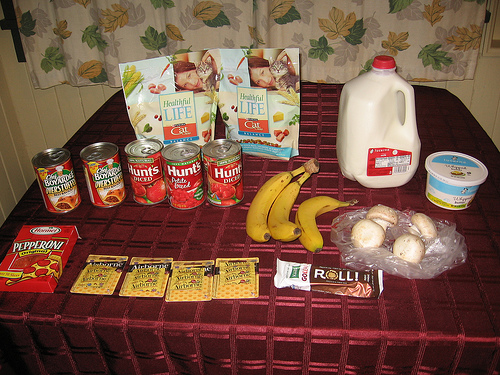 $26.21 worth of groceries & cat food bought for $2.87 after coupons
2. Don't stop at pet food coupons.
Perhaps your cat or dog requires a special kind of food for health reasons. Or maybe there just aren't any good coupons for the brands carried at your stores. Now what?
The great thing about coupons is that they can still help you save money on key items, even if you have special circumstances or the item you want doesn't have many coupons. For starters, if you use coupons to save money on necessities like toothbrushes, toilet paper, or cleaning supplies, it gives you that much more money in your budget for Fido's food. You can also use the overage concept I outlined above if you have coupons for other items in your transaction that will result in overage, and use the extra to help offset the cost of your pet food.
Another coupon to look out for are "Catalinas".
Catalinas are a coupon that are generated at the register during checkout when you buy a specific item; sometimes these will be money off coupons that are valid towards your next purchase at that store. These particular catalina coupons can be used on almost anything except alcohol or cigarettes. I wrote a series of catalina articles here that you can read for detailed information on how to find and use these coupons. I've used coupons from the Sunday newspaper to get Glade Plug-Ins totally free, which then generated catalinas for money off my next order. I bought more Glade Plug-Ins in subsequent transactions, and then used those catalinas to get a whopping $70 off my order of produce, cheese, eggs, and more. Keep an eye peeled for these type of deals, and if you find one, use the catalinas to pay for your cat food! (And what do you do with a dozen Glade Plug-Ins? donate them or sell them at a garage sale!)
3. Sign up for samples.
There are lots free sample offers out there for cat or dog food, and it can be a great way to supplement your pet food stash. I sign up for these whenever I find them, so I can pass them on to my friends and family. One recent free sample I signed up for was a full-size bag of puppy food mailed straight to my door. That's nothing to sneeze at! You can find samples on sites like StartSampling.com and MoneySavingMom.com.
4. Enter giveaways.
When it comes to saving money, the more creative you can be, the more money you can save! I'm also a sweepstakes enthusiast, and I often enter pet giveaways so I can win gifts for my pet-owning friends. Pet giveaways tend to get lower entries because they're such a niche product, and low entries mean better odds of winning. I won two pet giveaways in August alone! I have a number of articles on how to get started entering & winning giveaways on my sweepstakes blog, Contest Corner, which you can find here.
5. Keep an eye peeled for online deals.
Online retailers often carry pet food, so watch out for special sales and discounts. One of my favorite resources for finding deals online is SlickDeals.net; I would also recommend RetailMeNot.com to look up coupon codes for online retailers. And if you end up shopping online, make sure you check to see if you can get cashback on your order first!
Here's a few sites to check for pet food sales:
Wag.com is a new pet supplies store owned by the creators of Soap.com and Diapers.com. You can get 10% off your first order by using this coupon code: SUPE8183.
Amazon.com has a whole section for pet supplies, and sometimes has special coupons and discounts available. Be sure to check out programs like Amazon Mom and Amazon Student, as they each come with a free trial of Amazon Prime, which will score you free shipping on most orders. Also consider signing up for rewards programs like Swagbucks and MyPoints, which you can use to earn Amazon gift cards by searching the web, taking surveys, and more. Then, use the gift cards you earn to pay for dog food!
6. Write to companies and sign up for mailing lists.
Do a Google search for the pet food brands you use, and use their website's contact form to drop them a line and let them know you enjoy their brand and would like to be added to any mailing lists that they may have. Companies love hearing from their customers, and will often mail out special coupons to thank you for your business, or add you to their customer database to receive future mailings and offers. This can be a source of big savings – I've gotten coupons for everything from free organic produce to free sugar by writing to companies, so it's worth taking a moment to email your favorite dog food manufacturer to see if they have any coupons on offer!
7. Start a pet blog!
If you enjoy reading blogs, perhaps you should consider starting one yourself. Companies love to promote their products through social media outlets because it's an inexpensive and effective method of advertising. This means that bloggers often receive complimentary product samples from companies who'd like to be featured on their webpage. If this intrigues you, perhaps you should set up a blog for cat or dog lovers with the aim of reviewing pet products! You can check out The Motherload's article on how to become a product reviewer for further information; Mama of 3 Munchkins also has a great listing of 37 different resources for budding product reviewers.
Pet lovers: How do YOU save money on food for your cat or dog?