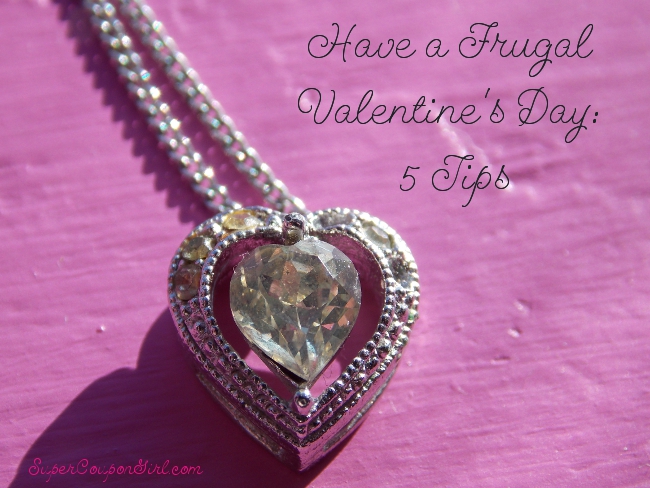 We're less than a week away from Valentine's Day, and whether you're thinking about a gift for your significant other or just shopping for candy to take to your child's classroom, it's likely that many of you will be doing some shopping for gifts this week.
1. Make a Gift:
When I was a child, I remember reading a short children's story about a farm girl who starts at a new school right before Valentine's Day. She was upset because she didn't have the money to buy special valentines like her classmates, so her mother suggested using the resources they had on the farm – eggs, milk, flour – to make a batch of heart-shaped cookies. Her class loved her personalized, yummy cookies better than any other valentine, and the story finished with the recipe to make your own cookies. After all these years, that story still sticks will me, and I think it's a timeless message! Whether it's homemade treats, handwritten cards, a bouquet of wildflowers, or a craft idea you found on Pinterest, I firmly believe that DIY presents result in some of the most cherished memories.
2. Give Your Most Precious Resource – Time:

But what if you don't have the funds or materials to even make a homemade present? Then you can create memories and do something special for your loved one by giving the most valuable gift of all, which is your time. With everyone getting busier and busier, quality time is getting scarcer than ever. Take an afternoon to just hang out and visit the park, watch a movie, go for a walk, play video games – whatever you feel like doing! The time we spend with others is what we remember all our lives, long after the chocolates have been eaten and the flowers have wilted.
3. Use Online Coupons….

If you have a larger budget and are planning on shopping online for something specific, take a few minutes before you place your purchase to do a little comparison shopping, then check for online coupons or rebates that may be available at the vendor you decide on. For example, if you're shopping for jewelry, Red Envelope has a page of coupon codes including 20% off their jewelry, $30 off your order of $135, 15% off your order of general merchandise, or free shipping on order of $49 or more. Their diamonds aren't exactly in my budget, but they do have some other more modest offerings. The clearance section had some items around $10 that would be a little more my style if I were shopping for gifts there!

No matter how much you plan on spending, a bit of quick research on available coupon codes can quickly shave money off your order.
4. …And Offline Coupons!
A few years ago, I used some in-store coupons at Walgreens to pick up some bags of chocolate-covered macadamia nuts for .50 cents each. I tucked them in my gift box and pulled them out to give to Jai on Valentine's Day. Spending $1 for V-day: It might not be diamonds, but it was delicious!
5. Finally, Hit The Clearance For Next Year!
No, clearance candy probably won't taste good in 2014, but there are plenty of other things you can find marked down now that can save you some time and cash next year – decorations, craft supplies, or other non-perishable Valentine's themed items are all good buys for next year if you can pick them up at a steep discount February 15th.
How do you save money on Valentine's Day gifts?