On Friday, I stopped by Fred Meyer to redeem a stack of free coupons:
Total Spent: $6.49
Total Before Coupons: $32.71

Got:
1 bottle of Soft Scrub Cleaner – regularly $3.67, used one free coupon I received from a product review I did on Contest Corner.
1 box of Wheat Thins – regularly $2.00, used one free coupon that I got from a recent promotion – I believe it was on Twitter? They had an "Insurance policy" joke where you could fill out a "Claim" to get a free box of Wheat Thins.
1 bottle of Satin Care shave gel – price: $2.00
1 tub of Pillsbury Gluten Free Cookie Dough – regularly $4.69, used one free coupon that I received through a recent free offer – I guess they and Betty Crocker have both been running competing offers lately!
2 bags of Simply Potatoes – regularly $2.99, used two free product coupons I received for a forthcoming product review on my new food site, Cooking Catastrophe.
1 package of Foster Farms Oven Ready Chicken Breasts – regularly $6.89, used one free coupon I received for a review on Contest Corner.
1 bottle of Purex Laundry Detergent – regularly $2.99, used one free coupon I received for a another product review on Contest Corner. I thought this was only available at Target, but I found it at Freddy's so I was able use one of my coupons! Yeah!
1 package of bath tissue – price: $4.49
I also stopped by Dollar Tree to stock up on some items that I didn't have coupons for, as Dollar Tree has the best shelf price on them: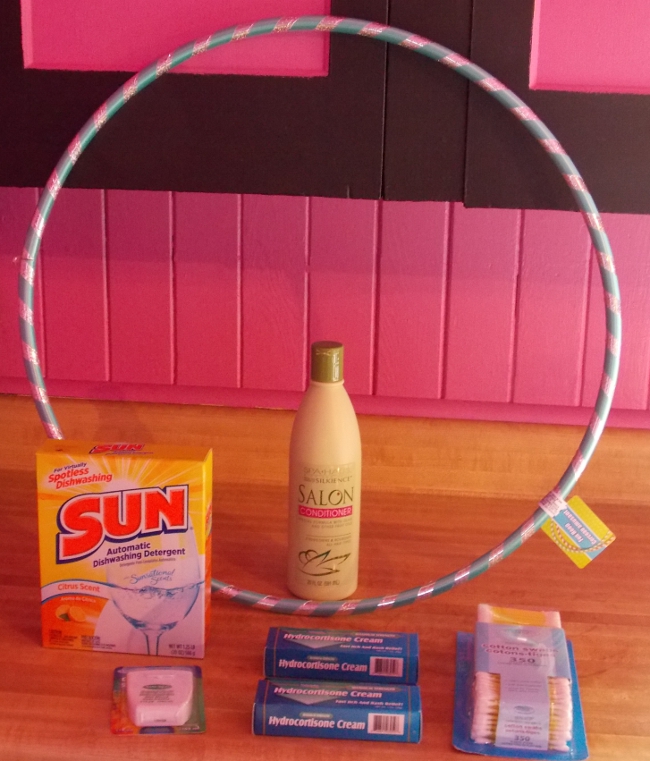 I spent $7 and got some things I was running low on – cotton swabs, floss, and dishwashing detergent for my new dishwasher! I also bought a bottle of conditioner because I finally ran out of my stockpile a few months ago. I know! It feels so weird to pay full price for conditioner…
I also got two tubes of hydrocortisone cream and a hula hoop. Now if those two items don't encapsulate summer, I don't know what does! 😉 I was inspired to get a hula hoop after going to the Oregon Zoo earlier in the month and getting a lesson from the "Mayor of Hooperville". I was only able to keep the hula hoop going for 30 seconds, but my abs were sore for 3 days – that's got to be the most efficient ab workout ever, so I wanted to get a hula hoop so I can start doing this regularly for exercise!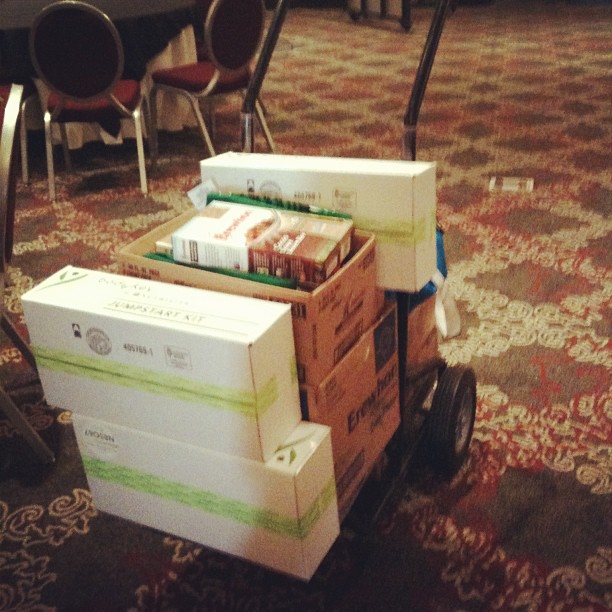 I also had to share this Instagram picture that I took at the end of June, because it was a classic Super Coupon Girl moment. I had the pleasure of attending the FitBloggin' conference in Portland, and every attendee received a swag bag full of promotional items from the conference sponsors. Well, at the very end of the conference, there was a table with all the leftover sponsor items, both from extra swag bags and also excess items left over from tables in the Expo Hall, where sponsors were handing out samples to attendees. The conference organizers were encouraging all of us to take home whatever extra we'd like, as they just had to offload it anyway. All the attendees left at this point were from out of town and had already taken all they possibly carry in their suitcases, since you can only take so much baggage on a flight before incurring big fees. I was the only person local to the area and driving, and they told me to to take anything left that I wanted.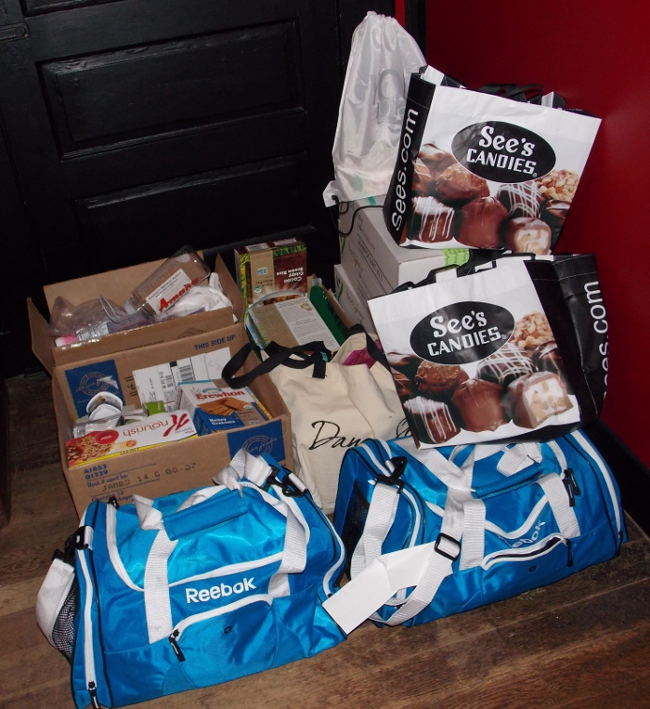 I had so many boxes of freebies that I actually had to use a pallet to take it out to my car. That's right – Super Coupon Girl brought home a pallet full of swag from the conference. 😉 And it was all great stuff: Food such as cereal, protein bars, shakes, free coupons for food items, vitamins, socks; tons of very practical things that we've been using every day. The few things we didn't need personally, we shared with our family and friend, so every single item was put to use!
Have you had any adventures this summer?