Last Thursday, I made a run to pick up supplies for Jai's birthday party:
Total spent: $68.33
Total before coupons: $97.20
View receipt
The menu for this party consisted of Jai's favorite foods: PB&J sandwiches and cheesecake! I always do a big spread for parties, so after working out the number of servings per cheesecake, I decided that I would need to make five. I listed out all the extra ingredients that I would need to buy, and I decided that going to Fred Meyer would be my best bet. As I mentioned in my article Five Strategies for Shopping Success, Fred Meyer has lower shelf prices than Safeway, but whether I shop there depends on the coupon deals at Safeway and the cost of gas vs. savings. In this instance, I needed many items which I had no coupons for, making the trip to Fred Meyer well worth my while.
And after all that careful price-checking of ingredients? I got to Fred Meyer and discovered pre-made, no-bake cheesecake mixes – including the crust, filling, and fruit topping – for a fraction of the price. I had no idea there was such a thing, and I was surprised to find a pre-made cheesecake so much cheaper. As a comparison, the seven no-bake mixes that I bought (I added two more because the serving size was different from my recipes) cost a total of $24.65, whereas the cost for the cream cheese by itself alone was $19.00.
So here's the full list of what I picked up:

Five 1 pint, 9.36 fl. oz bottles of Star olive oil – on sale for $4.99 (originally priced at $9+), used five $4.00/1 coupons that I received for taking a survey – final price: .99 cents each, grand total $4.95 for five bottles. I got these coupons a while ago from a special limited-time survey promotion on Star's website. I've been hanging on to them until I could find a good olive oil deal, and this was it. These generous bottles will last me a long time – and perfect timing too, since I just ran out of olive oil!
1 32 oz jar of grape jelly – gotta have this for PB&J! Price: $1.69
1 32 oz jar of Raspberry preserves – price: $3.29
1 32oz jar of Strawberry preserves – price: $3.29
3.16 lbs of bananas – we were running low on fruit. Price: $1.86
1.05 lbs of Braeburn apples – price: .82 cents
.99 lbs of Granny Smith apples – price: .77 cents
6 grapefruit – price: $2.00
1 gallon of skim milk – on clearance for $1.49. I used about a gallon of milk just in making the bread and cheesecakes!
1 gallon of 2% milk – on clearance for $1.49
Half gallon of half & half – price: $4.19 (.20 cents more expensive than Safeway, but wouldn't be worth the gas and time for a separate trip)
1 bottle of Seventh Generation dish soap – on sale for $3.49, used one free coupon that I earned through Recycle Bank – final cost: Free
7 boxes of no-bake cheesecake mix – total cost: $24.65
4 lbs of margarine – need this for baking – .79 cents each, final price: $3.16
5 lb bag of sugar – price: $2.39
1 package of Styrofoam cups – price: $1.49
Four 8-oz bags of cheese – $1.25 each, total price: $5.00
1 box of plastic spoons – price: $1.50
1 box of plastic forks – price: $1.50
1 tub of cat food – regularly priced at $1.49, used one free coupon found in the Fred Meyer coupon booklet – final price: Free
1 box of Green Giant "Just For One" frozen vegetables – on sale for $3.69, used one free coupon that I got through Psst… Network. Final price: Free
2 dozen eggs – on sale for $1.50 each, final price: $3.00
I also received a .20 cent credit for bringing my own bags.
Here's how the party turned out:
A display case that I decorated for the party

Beverage station

Cheesecake table #1

Cheesecake table #2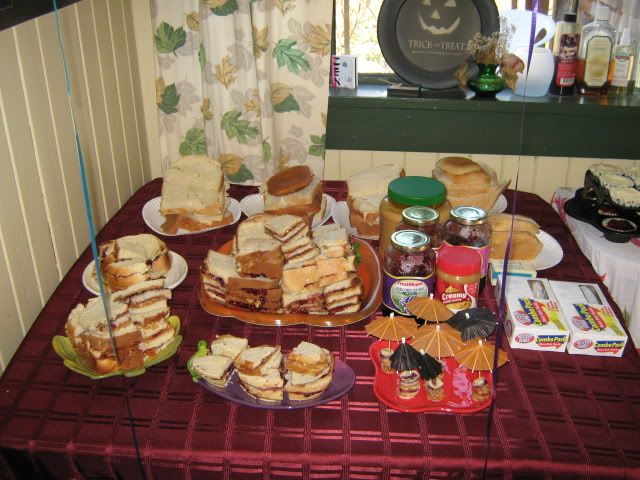 PB&J table – I made five loaves of bread for the party, half of which I used for sandwiches, and half of which I set out as a "Self-serve" station for anyone who wanted to make their own creations.

We sent some food home with guests, and still had a huge plate of sandwiches left over. I've found that these are quite good toasted!
I spent $14.92 on the party decorations, $3.00 on plastic knives, and also $5.45 on an emergency bag of coffee – I hadn't realized we were almost out when I went to Fred Meyer! So altogether, that's $91.70 – which bought all the supplies for this party, as well as stocking the kitchen with some needed items. Given than this was a special event, provided more than enough food and drinks for 16 people and gave us leftovers en masse, I'm satisfied with how I budgeted it. We had so much fun and will always remember this party!