The holiday season is a time for giving, so it seems only appropriate to host an end-of-the-year giveaway to say thank you to my wonderful readers! One reader of Super Coupon Girl will win an envelope containing 15 coupons good for a free bag of Contessa World Cuisine frozen meals, plus 25 additional coupons for $2 off! Now how's that for an awesome coupon haul?! You can enter via the Rafflecopter form at the bottom of this post! Read on for more information.
Since Jai and I started our diet program, I've been doing a lot less shopping because all of our food is being provided to us free of charge for participating in the program. I figured I would still do a fair amount of shopping for other items, but I realized that there just isn't much that we actually need at the moment! I'm stocked up on most cleaning and personal care items, so all that really leaves is the purchase of supplementary items like milk or fruit. And I did a big stock-up at Walmart in September because I had won a $100 gift card, so all told, I just haven't needed to buy much of anything! Even my Christmas shopping is covered, because my gift list receive either items I've won in contests or things I've reviewed for Contest Corner.
When I do go shopping, I always receive a warm welcome from the cashiers at our Safeway. One of them asked me where I've been, and when I explained that we were getting free food at the moment, she immediately got it. This was the same cashier who rang up my epic Windex haul, so she knows I definitely won't be running out of cleaning products any time soon.

But that doesn't mean I have completely stopped shopping: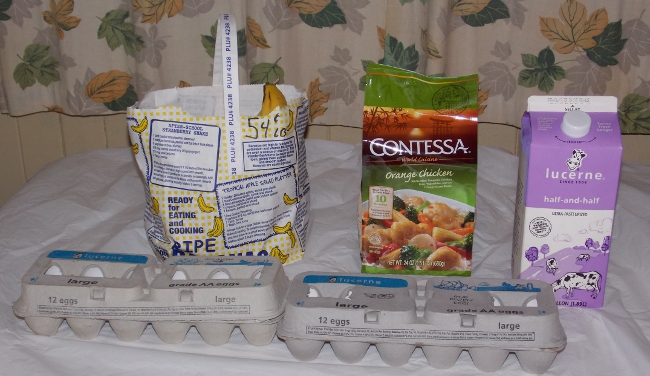 I stopped by Safeway last night to pick up a few things before Christmas. Contessa had offered to send me an envelope full of coupons for free products and $ off, as well as provide a giveaway for the same, so naturally I had to take them up on this offer. What could be a better prize for my readers than a ton of coupons to save money in the New Year? I used one of the coupons they sent me to pick up a bag of Orange Chicken for free. I also picked up a quart of half and half, a bag of ripe bananas marked down to .54 cents per pound, and two dozen eggs, on which I used this printable coupon to save .55 cents. All told, I spent $6.51.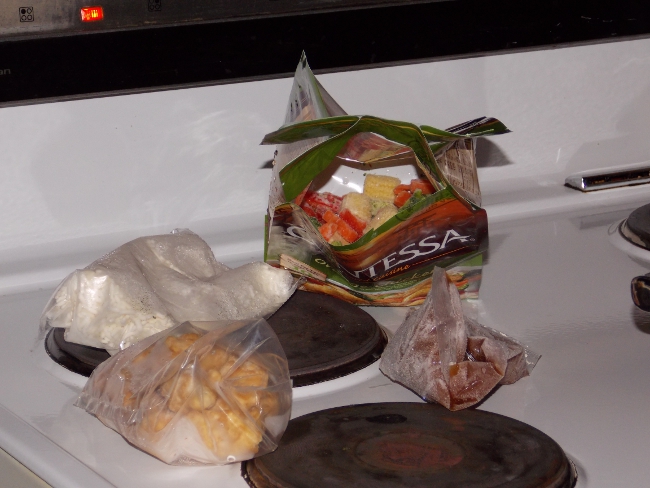 Contessa frozen convenience meals feed two people, and this variety came with vegetables, a bag of chicken, sauce, and rice. We reviewed two other varieties of these meals earlier in the month on Contest Corner, and they were really tasty. This time, I thought I'd try out the Orange Chicken, and the first thing I noticed was that this variety was a tad easier to cook than the Mongolian Beef as all the ingredients were already separated in their own bags. That being said, none of the ones I've tried were hard to prepare!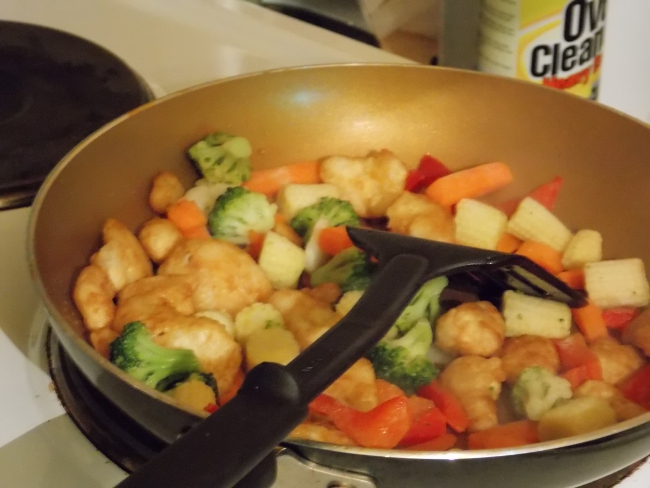 To cook, all you do is heat up a pan with vegetable oil, add the chicken, and cook for 5 minutes. Then you add the vegetables and sauce, and you're done about 5 minutes later. The rice is packaged in a bag that you stick straight in the microwave to heat up and cook, which takes 2-3 minutes. Open the bag, serve up the rice, then add the meat and veg. That's it!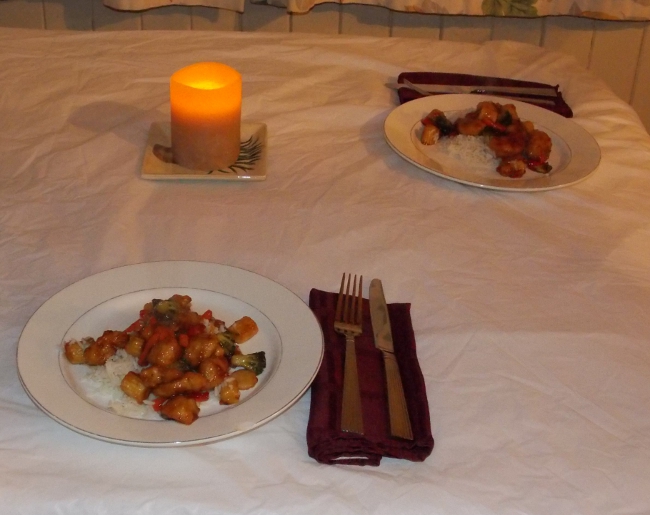 Jai and I treated ourselves to the dinner and oh man, it was good! The tender battered chicken is so yummy and does a good job at recreating the restaurant experience. The vegetables are pretty typical for frozen, with a nice sauce and rice. We thoroughly enjoyed it and love the ease and speed of preparation – not bad for an all-in-one meal! Of the flavors, I would have to say Mongolian Beef is still my favorite simply because it was loaded with garlic, but this came in a close second! All three varieties of Contessa frozen meals which we've sampled over the last month have been great.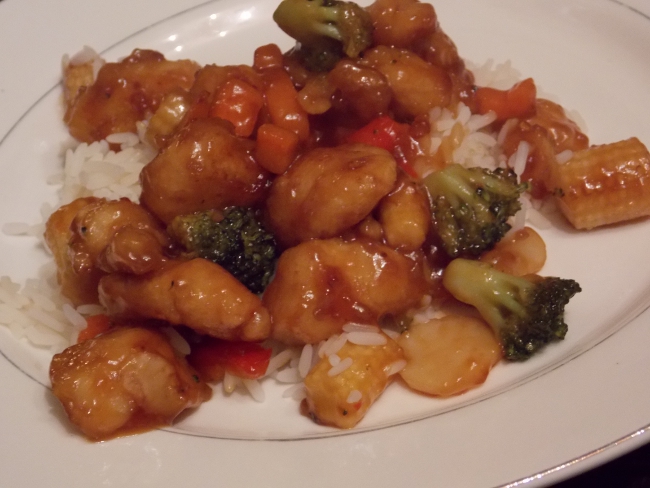 Giveaway!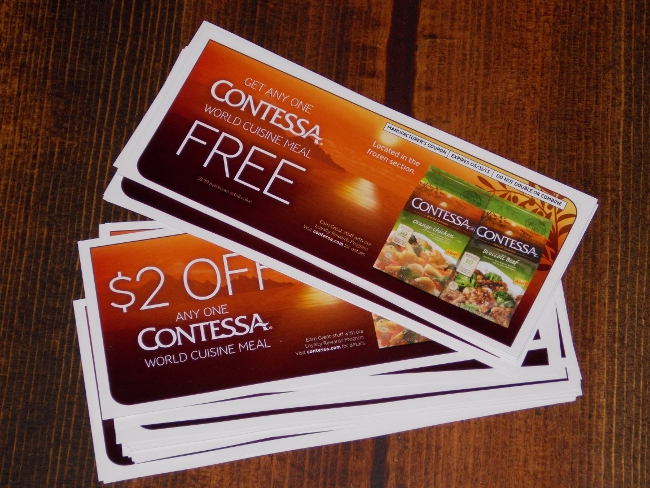 Now, time for the giveaway! One reader will win an envelope containing 15 free product coupons for Contessa frozen skillet meals, plus 25 additional coupons good for $2 off. The free coupons are good up to an $8.99 value, making the total possible savings with these coupons $184.85! Coupons are valid through 5/31/13, do not double or combine.
We're using Rafflecopter on Super Coupon Girl for the first time! If you're unfamiliar with Rafflecopter, it makes it easy to enter giveaways. Just log in to the widget below with your email or Facebook account, then click the "Easy entry" button to enter the giveaway with one click! That's it! After your initial entry, you'll see a host of other option appear if you'd like the chance to increase your odds of winning. See below the widget for full rules. Have fun and good luck!
a Rafflecopter giveaway
Rules, regulations, and other important stuff: Giveaway is open to residents of the United States, 18+, and ends on January 4th, 2012 at 12:00 AM PST. We are sorry, but APO/FPO addresses are not eligible to win. Winner will be chosen through Rafflecopter the same day and notified via email. Winner has 48 hours to respond to our notification email, or a new winner will be chosen in their place. This promotion is in no way sponsored, endorsed or administered by, or associated with, Facebook. We hereby release Facebook of any liability. By entering this giveaway, you are releasing Facebook and understand that you are providing information to Contest Corner and the giveaway sponsor, not Facebook. Super Coupon Girl is not responsible for late entries or entries lost due to technical malfunctions. Please see our disclosure for further details on our site's policies. A sample was received to facilitate this review.