Phew! This has been one busy summer for us, as I'm sure it has for you, too. We've been working on a lot of major projects this week, including a transfer of all our websites from one web host to another, which you may have read about on Facebook. Everything went smoothly and I'm happy to be on a new host, as we'd been having a lot of problems with slow loading times and site outages; but it was definitely a big job!
Another exciting project that we've embarked on is joining the Nutrisystem Nation Blogger Panel over on Contest Corner! As members of this panel, Jai and I are receiving the Nutrisystem program free of charge in order to share our honest opinions and results through blog posts and videos. If you're not familiar with Nutrisystem, it is a diet plan where you receive pre-portioned, pre-packaged food for all your meals. Not only is this a very frugal opportunity, but it's been life-changing for our health. So far I have lost over 8 pounds while Jai has lost over 20, so it's a really exciting time for us.
Now, you may be thinking that since we're participating in this Nutrisystem program, that I won't be doing any coupon shopping at all. While it's true that I don't have to buy much food, we still do supplement our meals with fresh fruit and vegetables to round out the program; and of course I'm still buying household supplies. I'll still be on the lookout for great deals – I'll just be focusing on different areas while I'm on the Nutrisystem program. With that said, here's my most recent shopping trip from Monday:
Safeway Shopping trip, July 30th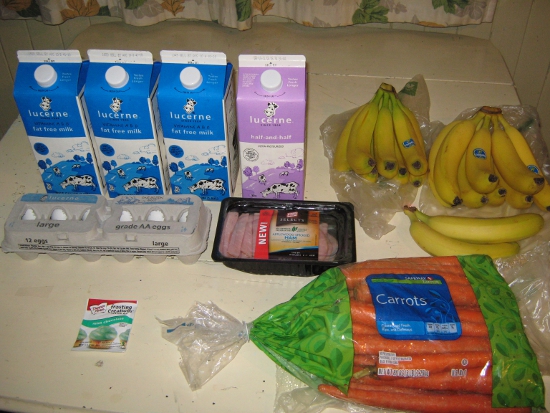 Total spent: $12.22
Total before coupons: $23.39
View receipt
Got:
1 packet of Duncan Hines Frosting Creations – regularly .89 cents, had a personalized Just4U offer for a free packet. Final price: Free!
1 dozen eggs – regularly $2.19, had a personalized Just4U offer for a free dozen. Final price: Free!
3 half-gallons of fat free milk – regularly $1.99 each, had a personalized Just4U coupon that made each carton .99 cents each. This was the lowest price on milk anywhere so I snapped up the maximum of 3 cartons.
1 half-gallon of half & half - price: $3.49
1 package of Oscar Mayer Selects Ham – regularly $4.49, used one free product coupon. Final price: Free! I got this coupon in the mail recently and I'm honestly not sure why. It came with a note that read: "To say 'Thanks' for choosing Oscar Mayer over the years, we wanted to surprise you with a coupon good for a FREE PACK of Selects!" Well, you certainly won't see me arguing with free luncheon meat.

6.04 lbs of bananas – regularly .64 cents per pound, I had a personalized Just4U offer which brought the price down to .54 cents per pound. Final price: $3.27.
5 lb bag of carrots – price: $2.49
Everything we bought fits into our Nutrisystem diet plan – well, obviously not the frosting packet or half and half, but the frosting stuff was free and will keep for a long time, and I need coffee with creamer to survive.

The fat-free milk, eggs, and lean ham are all recommended by our diet plan as supplementary, protein-rich snacks to have between meals; and of course, fresh fruit and veggies are an important part of any diet plan. I wrote a post here with tips on how I follow the Nutrisystem plan frugally, if you'd like to check it out.
I have noticed that the offers in my Safeway Just4U account have definitely been tailored to what I'm buying, which is pretty cool. For example, I've been getting offers on bananas, eggs, and fat free milk, all of which I'm purchasing regularly as part of our diet plan. My only critique is that I've been encountering a few bugs with my account and promotions not coming off at checkout. I'm in the middle of talking with customer service about this, so I'll have more updates for you once they investigate it and let me know what the issue was.
So what are you up to this summer?