On Tuesday I went to Safeway and got to redeem some coupons for the first time in a while! My knees are slowly getting better so I'm starting to have more mobility. Although I was pretty sore navigating through Safeway, I'm hopeful that I will be able to slowly resume my shopping trips now!
I had 10 free coupons to redeem for Slim-Fast, because I am working with the company on a review over on Contest Corner. (You can check out my review here if you're interested – I'm also running a gift card giveaway alongside it!) As you can imagine, shipping coupons for free items is much less expensive than shipping heavy samples of a product, so companies often send me free coupons as a way to try their items when I'm putting together an article for them. So here's what I got: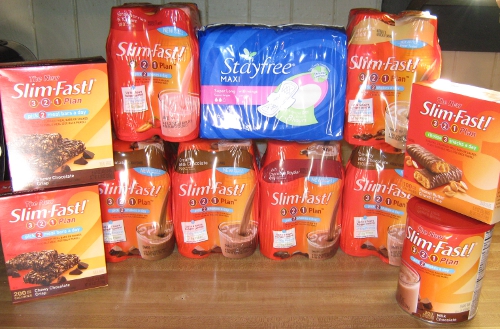 Total spent: $3.49
Total before coupons: $64.89
View receipt
Got:
1 canister of Slim-Fast drink mix
3 boxes of Slim-Fast bars
6 four-packs of Slim-Fast shakes
1 package of Stayfree
What kind of deals have you been getting lately, readers?