Meal planning is an important aspect of preparing frugal meals. By working out a game plan ahead of time, you can streamline what you buy and avoid the take-out trap. So today, Super Coupon Girl and Pocket Full of Posies have teamed up to give away a meal planning system to one reader!
Pocket Full of Posies offer a unique pocket meal planning system. The purpose of the system is to combine your week's menu with a shopping list, creating a plan for you with the goal of reducing your workload. You are provided with a stack of cards with ingredient lists and recipes, which fit into a magnetized pocket holder that you place on your fridge. Pocket Full of Posies sent me one of their planners to try out so that I could share my thoughts on the system.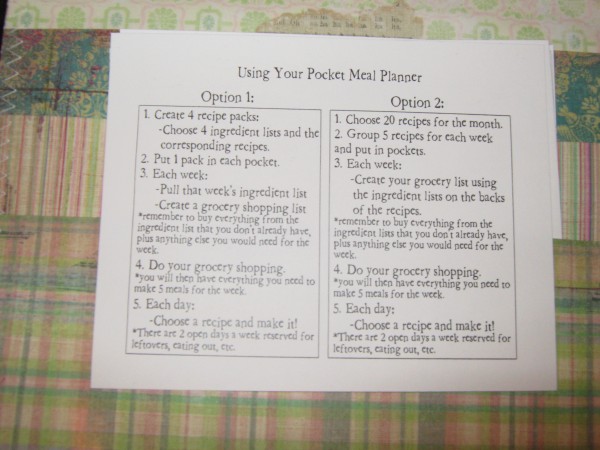 I thought this handmade system was very cute! The basic idea is that you choose one ingredient list, then pull the corresponding 5 recipe cards that go with it. You then take the ingredient list to the store and buy all of the items you will need to make five meals – two days a week are left open to utilize leftovers or eat out. You put each ingredient list and matching recipe cards in one of the meal planner pockets; the planner fits a total of 4 weeks worth of recipes. The ingredients needed are also listed on the back of each recipe card, so if you prefer to customize the meal plan, you can refer to the individual cards for your shopping list.
I've tried various different approaches to menu planning over the years, so I was curious to see how this would compare to my current system. Since my household is just myself and Jai, I've found that our meal plans need to be very flexible: I've tried writing out detailed plans for each day of the week, but inevitably I find it needs to change as the week goes along because we end up with more leftovers than I anticipate, or a surplus of a certain ingredient. Also, since our schedules are so hectic, it makes it hard to anticipate what will work the best on any given night; a big pot roast on Thursday may sound like a great plan on Sunday night, but if I work late it may end up being more of a Quesadilla night. So now what I do is write up a big list of all possible meals that could be made with the ingredients I have on hand, separated by category – breakfast, lunch, and dinner. Then I can decide on the day what will be most practical, while still having a detailed plan to rely on.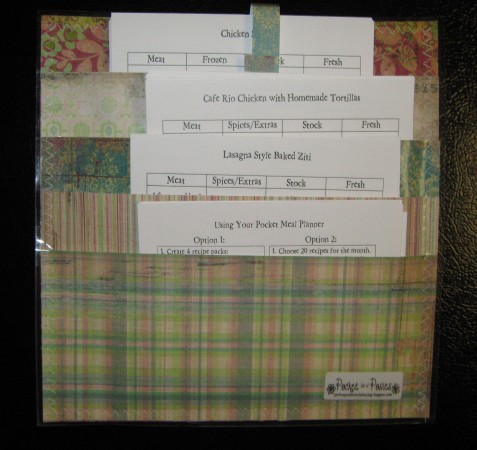 The recipes in the Pocket Full of Posies Monthly Pocket Package 1 Meal Planner certainly look delicious and simple to prepare! I like that you can pick which recipe you want out of that week's pocket – somewhat similar to how I pick and choose whichever meal works the best off my list – although obviously since the menu is pre-determined that does eliminate some flexibility. The downside to this type of system is that it would be more frugal to go through your weekly grocery ads and prepare a menu based on what is on sale, rather than using a pre-made list. However, for those who may be new to meal planning, something like this could be a great way to get started. It's easy to feel overwhelmed, so this is one way you could reduce the workload and get into the rhythm of menu preparation. And if you've never made a meal plan before, then you will save money just by starting, since meal planning reduces waste, helps you streamline what you buy, frees up time, and reduces the temptation to call for a pizza when your family asks, "What's for dinner?". The most important thing is just starting, however you choose to do so – as you establish a routine and get the hang of meal planning, you will be able to make your menu more cost effective as you go along.
Reader Discount:
Pocket Full of Posies would like to offer my readers 10% off with discount code "SUPER10".
Giveaway time!
One Super Coupon Girl reader will win a Pocket Full of Posies Monthly Pocket Package 1 with their choice of pocket design! Here's how to enter:
1. For your first entry, just leave a comment on this post telling me how you plan your meals!
Want extra entries? Do any of the following, and leave a separate comment for each one:
2. Click here to visit the Pocket Full of Posies blog, and follow them on Google Friend Connect. Then come back here and leave a comment below letting me know that you did!
3. Link to this post on your blog, then come back here and leave me the link!
4. Write about this on Twitter, then come back and leave me the link to your tweet! One Twitter entry per person. You can use the button at the bottom of this post to tweet with one click!
5. Post my button on your website – just copy and paste the following code, and let me know where you put it:
Rules, regulations, and other important stuff:
Giveaway ends on November 2nd at 11:59 PM, PST. Winner will be chosen the following day via
Random.org
. Winner has 48 hours to respond to my notification email, or a new winner will be chosen in their place. Giveaway is open to US and Canadian residents.