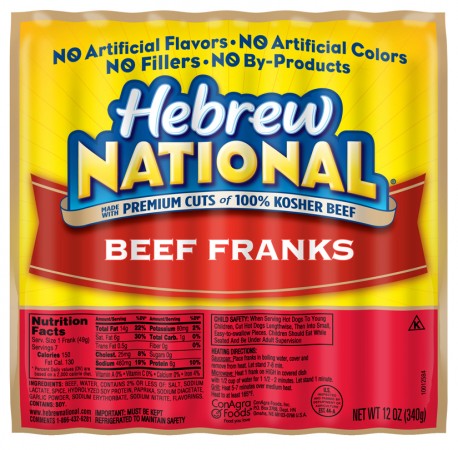 With Memorial Day right around the corner, you can expect to start seeing more sales and coupons for "Summer" foods like hot dogs. I already snagged a free package of hot dogs last week, thanks to a free coupon that Hebrew National sent me so that I could review their product. And as I mentioned, we have a special giveaway for Super Coupon Girl readers: 8 lucky winners will each win one coupon good for a free package of hot dogs, so read on for your chance to win!
When I redeemed my free coupon, I decided to get a package of their 97% fat free dogs, since they were only 40 calories each. Jai really loved these hot dogs and was commenting on how tasty they were, and he was actually really shocked when I told them they were fat free and so low in calories. I thought they tasted pretty good, although I found them to be a bit gristly. I was going to take a picture for the Coupon Menu Corner, but we ate them all before I got a chance! 😀
Hebrew National also sent along a few recipes to share with you:
Lettuce-Wrapped Reuben Dog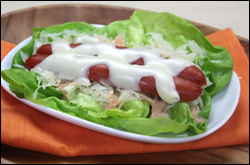 PER SERVING (entire recipe): 131 calories, 4.5g fat,
Reuben sandwich – bread + lots of lettuce – corned beef + guilt-free hot dog = yum!
Ingredients:
1 hot dog with about 40 calories and 1g fat or less (like Hebrew National 97% Fat Free)
1 slice reduced-fat Swiss cheese
2 leaves butter, iceberg, or romaine lettuce
2 tbsp. sauerkraut
1 tbsp. fat-free Thousand Island dressing
Directions:
Carefully slice hot dog lengthwise without cutting all the way through. Place it flat on a microwave-safe plate, cut-side down. You can also grill it!
Break cheese into 6 thin strips and evenly place over the hot dog. Microwave for 30 seconds, or until hot dog is heated through and cheese has melted. Set aside.
On another plate, stack lettuce leaves and top with sauerkraut and dressing. Use a spatula to transfer your cheesy dog to the lettuce stack. Wrap & eat!
MAKES 1 SERVING

Hot Dog! Fajitas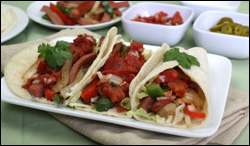 PER SERVING (1/2 of recipe, 3 fajitas): 310 calories, 4g fat
Ingredients:
1/2 cup canned diced fire-roasted tomatoes, drained
2 tbsp. finely diced onion
1/4 tsp. chopped garlic
1/8 tsp. black pepper
1/4 cup fat-free sour cream
1 tbsp. Hellmann's/Best Foods Dijonnaise (or another mild creamy Dijon mustard)
3 hot dogs with about 40 calories and 1g fat each (like Hebrew National 97% Fat Free)
1 cup sliced onion
1 cup sliced bell pepper
Six 6-inch corn tortillas
1/2 cup shredded lettuce
Optional toppings: relish, jarred sliced jalapeños
Directions:
In a small bowl, combine tomatoes, diced onion, garlic, and black pepper. Mix well and refrigerate until ready to serve.
In another small bowl, combine sour cream with Dijonnaise and mix well. Refrigerate until ready to serve.
Cut hot dogs in half widthwise, leaving you with 6 pieces. Slice each piece in half lengthwise, and then slice each of those pieces in half lengthwise, yielding 4 even strips per piece, for a total of 24 strips. Set aside.
Bring a large skillet sprayed with nonstick spray to medium-high heat on the stove. Add sliced onion and bell pepper. Stirring occasionally, cook until partially softened, about 5 minutes.
Add hot dog strips to the skillet with the onion and bell pepper. Stirring occasionally, cook until strips are hot and slightly crispy, about 3 minutes. Transfer to a plate and set aside.
Place tortillas on a microwave-safe plate, and warm slightly in the microwave. Serve fajita mixture with tortillas, tomato mixture, sour cream mixture, shredded lettuce and, if you like, optional toppings.
Assemble and eat!
Makes 2 Servings;
Additional recipes can be found on Hebrew National's website – click here to check it out! They also have a selection of Safe Grilling Tips that may come in helpful if you're gearing up for a BBQ over the upcoming holiday weekend.
Giveaway time!
EIGHT lucky Super Coupon Girl readers will each win one (1) coupon good for a free package of Hebrew National Hot Dogs! Here's how to enter:
1. For your first entry, just leave a comment on this post and tell me: What is your favorite hot dog topping?
Want extra entries? Do any of the following, and leave a separate comment for each one:
2. Link to this post on your blog, then come back here and leave me the link!
3. Write about this on Twitter, then come back and leave me the link to your tweet! One Twitter entry per person. You can use the button at the bottom of this post to tweet with one click!
4. Post my button on your website – just copy and paste the following code, and let me know where you put it:
Rules, regulations, and other important stuff:
Giveaway ends on June 5th at 11:59 PM, PST. Winners will be chosen the following day via
Random.org
. Giveaway is open to US residents. Hebrew National provided me with a free coupon for the purposes of this review, and will also be furnishing the coupons to the winners of this giveaway.