I love it when a deal comes along right when I need it! I'm almost out of stamps, and had planned to stock up at the Post Office so that I'd have plenty for all the holiday cards I'll be sending soon. Well, tonight I caught wind of a deal where you can get custom photo stamps for only .39 cents each! Zazzle.com are running a sale through the end of tomorrow, November 25th, where you can save $8.80 per sheet of custom stamps. Pair that with 15% cashback from ShopAtHome and free shipping, and you have .39 cent stamps! Here's how it works:
1. Go to ShopAtHome.com and login or register. New to online rebates? Click here to read my article, "How I Save Money With Online Rebates", to learn all about it!
2. Once you are logged in to ShopAtHome, do a search for Zazzle. You will then be able to click through to receive 15% cashback.
3. After you reach Zazzle.com, select the Custom Stamps option. Then select the small 1.8″ x 1.3″ 44 cent stamps, and add your photo and text.
4. Use coupon code THANKPOSTAGE or click through (See below) to bring the price down to $9.15 per sheet. Use coupon code FREESHIPFORU to receive free shipping on orders of $50 or higher.
Update: You can also scroll down the list of special offers listed for Zazzle on ShopAtHome and click through the "$8.80 off sheets of 20 custom postage stamps!" to receive the deal without entering the coupon code. The code "THANKPOSTAGE" is listed further down the page but it says it "may or may not" be eligible for cashback – which seems silly, since it's the same exact deal. I would click through to get the deal just to be safe.
I ordered 6 sheets, a total 120 first-class stamps, and paid $54.90. I will receive $8.23 back in rebates, which is almost enough to buy a whole other book of stamps. This makes my final cost per sheet of stamps $7.78, or .39 cents each. I usually buy Forever stamps, because we know how often postage goes up – but a deal like this is worth stocking up on. Even if the Post Office were to raise their rates tomorrow and I had to buy 1-cent makeup stamps, I would still be ahead. Plus, I got to make super cute stamps for my Christmas cards – I used a photo that we took a few years back of a snowman on the beach, and added a festive greeting. Check it out: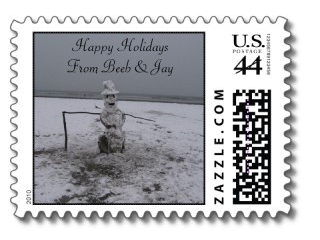 If you're gearing up to send holiday cards, you'll want to check this out! This is also a great deal for brides-to-be, since you could order special stamps for your wedding invitations. Hurry, this deal ends at midnight on November 25th!
Thanks for the heads-up, Frugal Living NW!