It's been a long time since I've taken a "Coupon roadtrip"! Yesterday, Jai and I headed to the Walmart in Cornelius for a project that I'm working on. I'm participating in a special "Champions For Kids" campaign organized by All You magazine, where they are asking couponers to use their money-saving skills to pick up items to donate to a local organization that aids children. I've written before about how I've used items that I got for free to donate to food banks, so this was the perfect project for me. I was given a $25 budget to purchase items for donation and compensated for my time. I wanted to show you some of the deals I snagged – I think I did pretty good, especially since I was shopping at a store I had never been in before and had no idea what they would have in stock or what the prices would be! I've only shopped at Walmart using coupons one other time, and that was three years ago. I've never bought baby stuff before either, so this post will be especially of interest to the parents out there!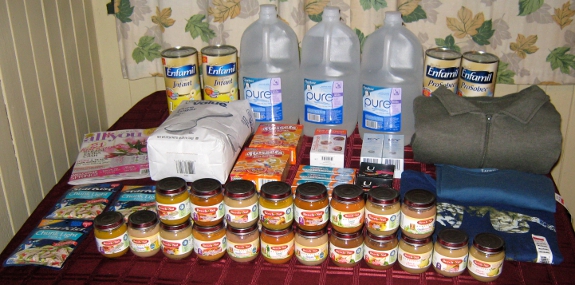 Total spent: $47.05 out of pocket, put $1.00 on a gift card that I won
Total before coupons: $87.55
View receipt
Transaction #1: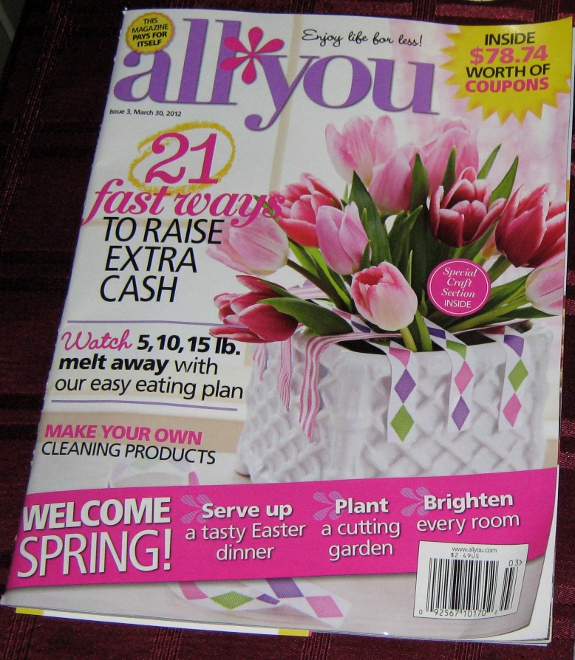 1 copy of All You magazine – price: $2.49. I bought this, clipped a few coupons out of it, then went back into the store for my second transaction!
Transaction #2: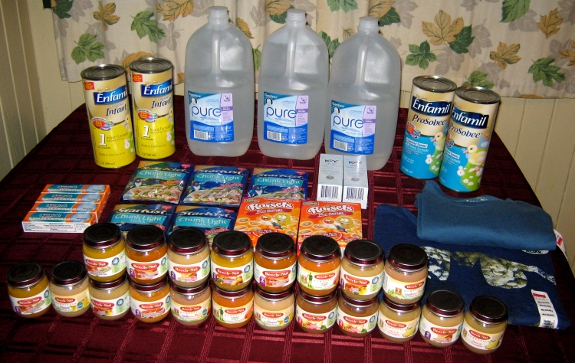 These are the items which I bought to benefit two local organizations: A food bank and a "Clothing bank" at a high school which provides teens in need with clothes at no cost.
2 t-shirts – on clearance for $3.00 each.
3 gallons of Gerber Pure distilled nursery water – $1 each, used one printable coupon good for $1.00 off three. Final price: between .66-.67 cents each.
20 jars of Beech-Nut baby food – on sale for .50 cents each, used two printable coupons for $1 off 10 jars. Final price: $8.00 for 20 jars.
4 canisters of Enfamil baby formula – regularly $6.76, used four $5/1 printable coupons. Final price: $1.76 each.
2 boxes of Raisels – .98 cents each. I had two coupons for .50/1 from the January issue of All you magazine, so they should have been .48 cents each, but I realized after I got home that these coupons didn't get taken off even though I handed them over.
2 boxes of K-Y jelly – these are $2.84 each, and I used two printable coupons for $3.00 off. This made them free plus .32 cents overage! The food bank I am donating to also carries health care items, so in addition to helping pay for my other items, this will be a good item to donate. It's kind of an embarrassing thing to buy, but I can't turn down overage! 😉 It does have a lot of medical uses so I know the organization I am donating it to will appreciate it.
4 tubes of Aquafresh Extreme Clean toothpaste – regularly .97 cents each, used four $1/1 printables (Jai and I each signed up for them, and you are allowed two prints per computer). Final price: Free plus .12 cents overage! Another good personal care item to donate, too.
5 Starkist Tuna pouches – on sale for $1.08, used five .50/1 coupons. Final price: .58 cents each. Three of these coupons came from this month's All You magazine – Jai and I both have a subscription, which is how I ended up with three copies! – and two were printable coupons that I got for taking a survey that came in my email.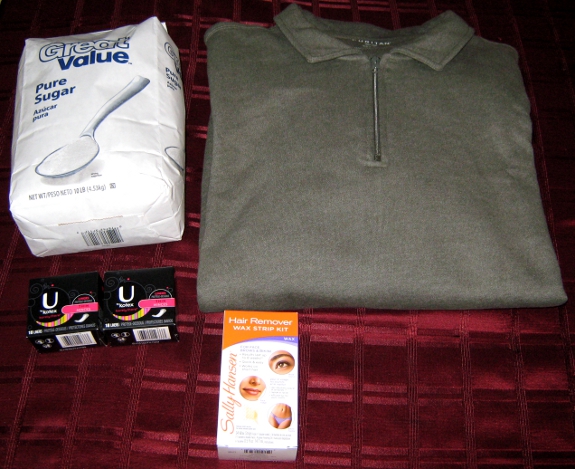 While we were there, I also picked up a few items for our own use:
1 fleece pullover – on clearance for $9.00
10 lbs of sugar – price: $5.64
2 boxes of U by Kotex pantiliners – priced at $1.24, used two $1/1 printables. Final price: .24 cents each.
1 box of Sally Hansen wax – regularly $4.98, used one $2/1 printable coupon (That's my referral link, FYI). Final price: $2.98
If you're curious to see a detailed breakdown of my coupon strategy, along with a picture of how I write out my lists and work out my "Coupon math", click here to view my Google+ album.