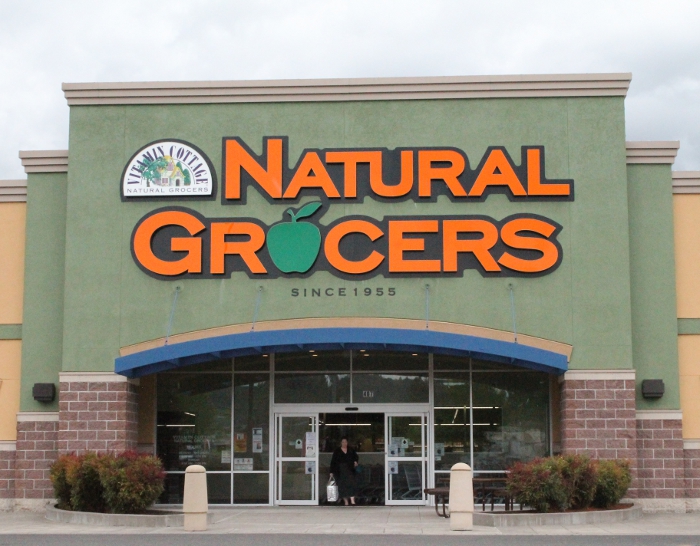 Gift bags, gift cards and meal provided by Natural Grocers.
Earlier this month, Jai and I attended a blogger event from Natural Grocers in Gresham. Their Gresham location just opened in March of this year, so this event was something of a welcoming party to introduce locals to what Natural Grocers has on offer. This was the first time I'd ever stepped foot in one of these stores, so I was interested to see what it would be like.
As you might imagine by the name, Natural Grocers is something of a "Health food" grocery store, carrying nothing but organic produce and naturally raised meats – meaning no hormones, antibiotics, growth promoters, or animal by-products in feed. They also do not carry any products containing hydrogenated or partially hydrogenated oils and no artificial colors, flavors, preservatives or sweeteners. They actually gave us a big leaflet of products that they won't carry and why, which is different for a grocery store! I care about supporting organic/free-range products whenever possible, and while I'm not necessarily a huge health food eater myself, I appreciate that many people are so it's nice for them to have options for what they want to buy.
With their emphasis on food and health, they also have a Nutritional Health Coach in each of their stores who teaches classes in the store and community and provides free one-on-one nutritional coaching sessions; Gresham's Nutritional Health Coach, Cathy Cooke, was on hand to talk to us during the event. Natural Grocers are big on the paleo diet, so they served us a brunch of paleo foods. I don't follow this diet myself, but I did enjoy the food they served and will be sharing their recipes on my cooking blog next week for anyone who'd like to try them!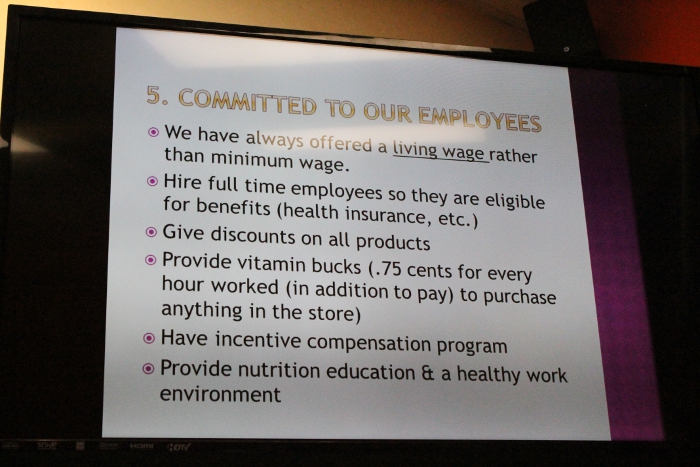 One thing that stood out to me during their presentation is that they made a point of telling us that they offer a living wage for employees – I thought that was a bold, unusual statement to hear from a company and I liked it! They emphasized their practice of hiring full time employees so that they can receive health insurance and other benefits. Also, Natural Grocers employees receive discounts along with "Vitamin Bucks", a .75 cent voucher per every hour worked on top of pay which they can use towards purchasing items at the store. Sounds like a good job for a couponer! 😉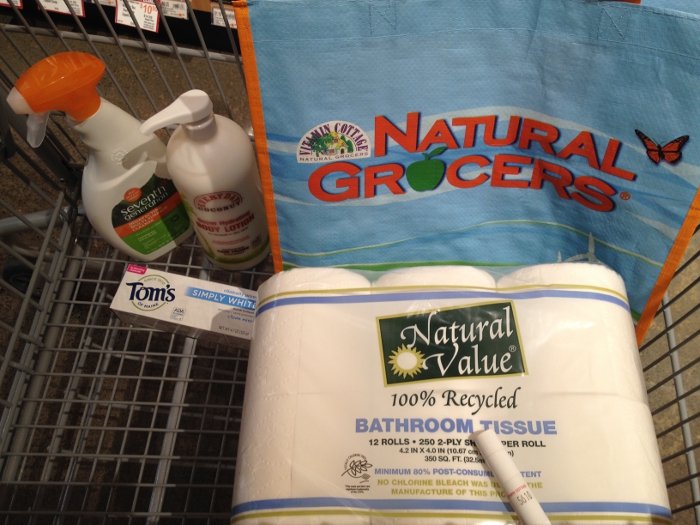 Which brings us to the part you're all wondering about: How are the prices? Jai and I each received gift bags full of product samples along with gift cards, so that we could go shopping after the event. This is what I picked up:
1 tube of lip balm: .75 cents
1 tube of toothpaste: $3.95
32 oz bottle of body lotion: Regularly $9.99, on sale for $6.99
12 pack of recycled bath tissue: Regularly $4.99, on sale for $4.29
1 bottle of all-purpose cleaner: $3.95
Total: $19.93
We had 7 cents left on our gift cards, so I gave it to the next person in line so they could save a few cents, too. 😉 From what I observed looking around the store, it certainly seems like the best pricing I've seen for these type of products; the recycled toilet paper was actually a lower price than what I often see some of the regular toilet paper going for in our local Seaside stores. These certainly aren't dollar store prices, but they're also specialized products, so if you regularly buy these brands and go out of your way to get things like organic produce, I think this store would be a good bet because the pricing is the most competitive that I have personally seen for this type of stuff. Keep in mind that we have no chain health food grocery stores here in Seaside, so I haven't done a ton of comparison shopping in this arena, but I have certainly visited other stores in this genre while traveling and the ones I've seen have been pricier. I was pretty impressed that they had small "Filler items" under a dollar, since I naturally wanted to get every bit of value out of our gift cards. 😉
If you're in the Gresham area, you can stop by Natural Grocers at 407 NW Burnside Road, Gresham, OR 97030 (Right across the street from Kmart). They have some fun raffle boxes at the front of this store this month to celebrate their recent opening, so check it out, have a look at their prices and selection and let me know what you think!
Do you have a Natural Grocers in your area? Have you shopped at one before? What did you think?